Agra Car Rentals and City Information
Agra, the Mughal Capital in the 16th and early 17th century, is full of architectural splendor of forts, mausoleums, and palaces. It is famous as being home to the Taj Mahal, one of the Seven Wonders of the World. Though its political significance ended in 1634 with the transfer of the capital to Delhi by Shah Jahan, its architectural wealth has made it an International Tourist Spot.
The Mughals with their passion for buildings constructed some of the finest specimen of Mughal architecture in the city. The city is known for its superb inlay work on marble by craftsmen supposedly with a lineage dating back to the Mughals. Agra's handicrafts also include carpets, gold thread embroidery and leather shoes. Agra to have got its name from Agrabana, a forest mentioned in the epic Mahabharata.
It came into prominence in 1501 when Sikandar Lodhi made it the capital city of his empire. It was during the time of Akbar, the great Mughal ruler that Agra came into its own. He commissioned the construction of the massive Agra Fort in 1565. Though Akbar built a new capital at Fatehpur Sikri not far away, much of the Agra's impressive past lingered on and is evident even today in the majesty of the buildings, the haunting presence inside the monuments, the exquisite arts handicraft and not to forget, the lure of exceptional cuisine all, cherishing priceless legacies of a nostalgic past.
The city has impressively retained much of its splendid history…¦ captivating every tourist with fond memories to take back home. Today, modern convenience coexist adjacent to tradition – luxury hotels, shopping malls and plazas, wide avenues and thrilling venues for recreation, sports, business, pleasure, education and the arts.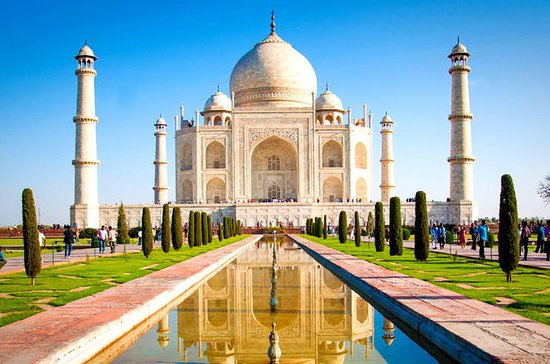 About Agra :
| | |
| --- | --- |
| City | Agra |
| State | Uttar Pradesh |
| Nearest Airport Name | Agra Airport |
| Airport Code | AGR |
| Distance From Airport To City Center | 18 Kms |
| Railway Station | Agra Railway Station |
| Distance From Railway Station To City | 14 Kms |